Our Events
We love hosting events and bringing our community together. Scroll down for information on our upcoming and previous events at Hunter Collective.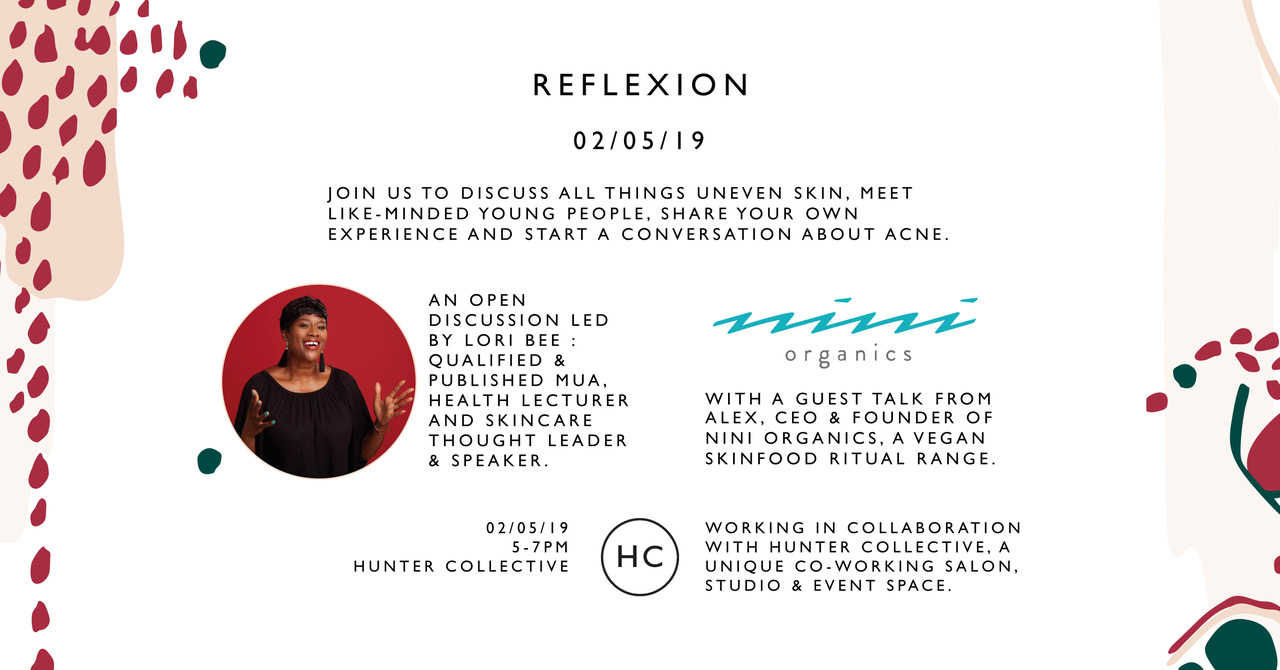 Friday 2nd May
Reflexion is holding an acne postive pop-up event to talk all things uneven skin.
Join our open and welcoming discussion led by Lori Bee, a qualified and published MUA, health lecturer and skincare thought leader and speaker, meet like-minded young people, share your own experience and start a conversation about acne.
Previous events at Hunter Collective
Thursday 28th March
Join us for this session on how to upscale your brand's marketing strategy by, understanding Customer Persona's and the importance of SEO overview.
This session is hosted by Victora Scally who has gained 13 years experience working in a wide range of business sizes and industries, from early stage through to large multinational brands.
Victoria offers services for your business metrics through a Marketing lens to move you to the stage of growth.
Friday 30th November
The Business Breakfast brings creative entrepreneurs and freelancers together to network, share experiences and chill. If you work in beauty, fashion, design, marketing etc. come join us to enjoy honest conversations and some real morning pick me ups!
Mama Matters - Sunday Sessions
Sunday 25th November
OUR NEW SUNDAY SESSIONS ARE A GAME-CHANGER.
A FULL DAY OF MAMATIME - THE PERFECT SPACE FOR YOU TO FOCUS ON YOUR OWN PERSONAL DEVELOPMENT AND SELF CARE.
YOU WILL EXPERIENCE INSIGHTFUL LEARNING WITH WORKSHOPS ON TOPICS THAT MATTER TO YOU, AS WELL AS STIMULATING CONVERSATION, RELAXED MINGLING, DELICIOUS FOOD AND MUCH MORE!
All Business No Balance?!
Wednesday 24th October
ALL BUSINESS NO BALANCE will be an event that will allow some amazing women in business to share their experiences. We want to help women understand the work that goes into being an entrepreneur/business owner.
The panellists will share the reality of their situations both pre establishment and post establishment.
How they strike the balance? Childcare? Being a mother and the societal expectations that come with it? Mummy guilt?
Friday 26th October
For this edition we will discuss how to make the transition from being a full-time employee to become your own boss with hair colour & education consultant Carolyn Newman. With over 35 years' experience, educating customers and hairdressers around the globe, she previously worked for the Charles Worthington Salon group for 25 years; covering varied roles from salon hairdresser, manager, educator and colour director. In 2013 Carolyn also became Operations Director which saw her responsible for the entire company business and all colour education both in house and globally.
Fellowship for British Hairdressing
Monday 29th October
An evening discussing hair health and trichology with guest speakers Trisha Buller and Errol Douglas MBE. Exploring how hair health can be introduced in to the salon environment.

Beautiful hair doesn't happen by chance, learn from the experts how the appliance of nutritional science is the root to healthy hair and healthy profits.
HC's 1st birthday party September 12th!
Come join us to celebrate our 1st birthday party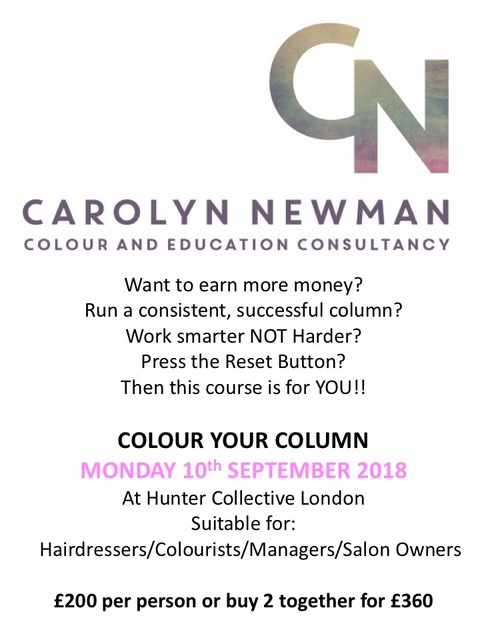 Colour Your Column
Monday 10th September
This session focuses on your colour business, either with regard to your own column or in your salon. How you manage your day to achieve not only creative success but financial success. Guiding you to work smarter not harder in our ever changing industry.
Balayage by
Jack Howard
Monday 24th September
Widely recognised as one of the most accomplished authorities on Balayage, Jack's philosophy is to offer the client beautiful hair that doesn't compromise on condition. Jack shows salons how to actually increase their colour revenue and customer loyalty through giving the client a quicker service and lower maintenance repeat visits.
BUSINESS BREAKFAST
Thursday 27th September
How to deal with the ups and downs of working solo.
The Business Breakfast brings creative entrepreneurs and freelancers together to network, share experiences and chill.
Bubbly & Body Love presents Living your best life / London
Inspired by Jill Scott's song "Golden" this event is all about living your best life and making 2018 the year for change. The focus is all about making the mental shift to owning your happiness and truly living a life you want to wake up excited for. This is "Living your best Life".
1 DAY INTENSIVE
BRIDAL MASTER CLAS
6th & 8th August
Ulyana Aster will reveal techniques behind her incredible hairstyles, secrets of editing photos and vidoes and will share intricate details on building a brand and business by using social media.
BUSINESS BREAKFAST
Thursday 26th July
How to deal with the ups and downs of working solo.
The Business Breakfast brings creative entrepreneurs and freelancers together to network, share experiences and chill.
motherhood & mental health
Saturday 21st July
Join us in this open discussion and find a support network of women talking all things Mental Health including Tokophobia, PND, Depression, Anxiety and more.
Eyes makeup masterclass
Saturday 14th July
Joyce will share her tricks and tips on how to create various looks.
project m london
Saturday 7th July
LENA HAIR MASTERCLASS
Tuesday 3rd and Wednesday 4th of July
Brunch ft. boucleme
Friday 30th June
The Business breakfast
Friday 29th June
BROWN BEAUTY TALK make up masterclass
Thursday 21st June
KIM BERRY PANEL
Monday 11th June
Tahira x trying to be a mum
Sat 9th, June
SPRING MELANIN
Sunday 10th, June
PXL LDN X HC
Wednesday 6th, June
BUSINESS BREAKFAST
Thursday 31st, May
Project m london
Wednesday 30th, May
Women of power
Saturday 19th, May
MINDS STORE
Sunday 13th, May
flawless skin makeup masterclass
Saturday 12th May
Tea for pnd
Thursday 3rd May
hc spring gathering
Wednesday 18th of April
A delightful evening at Hunter Collective with our members, friends and network.
Project m london
Wednesday 11th April
Women of power
Thursday 5th April
SMALL BIZ VS FACEBOOK
Tuesday 28th March
KRISTINA gASPERAs MASTERCLASS
Tuesday 20th & Wednesday 21st March
So far sounds london
Sunday 11th March
mama tribe UK
Friday 9th March
Women of power
Saturday 17th February
All bright
Monday 12th February
Project m london
Tuesday 6th February
VEST POD financial BREAKFAST
Thursday 18th January
london dad Panel
Monday 15th January
so far sounds london
Sunday 3rd December
Smart works charity
Tuesday 28th, Wednesday 29th November
THE FASHION CLINIC
Monday 27th November
SO far sounds
Sunday 12th November
Bouclème products brunch
Thursday 23rd November